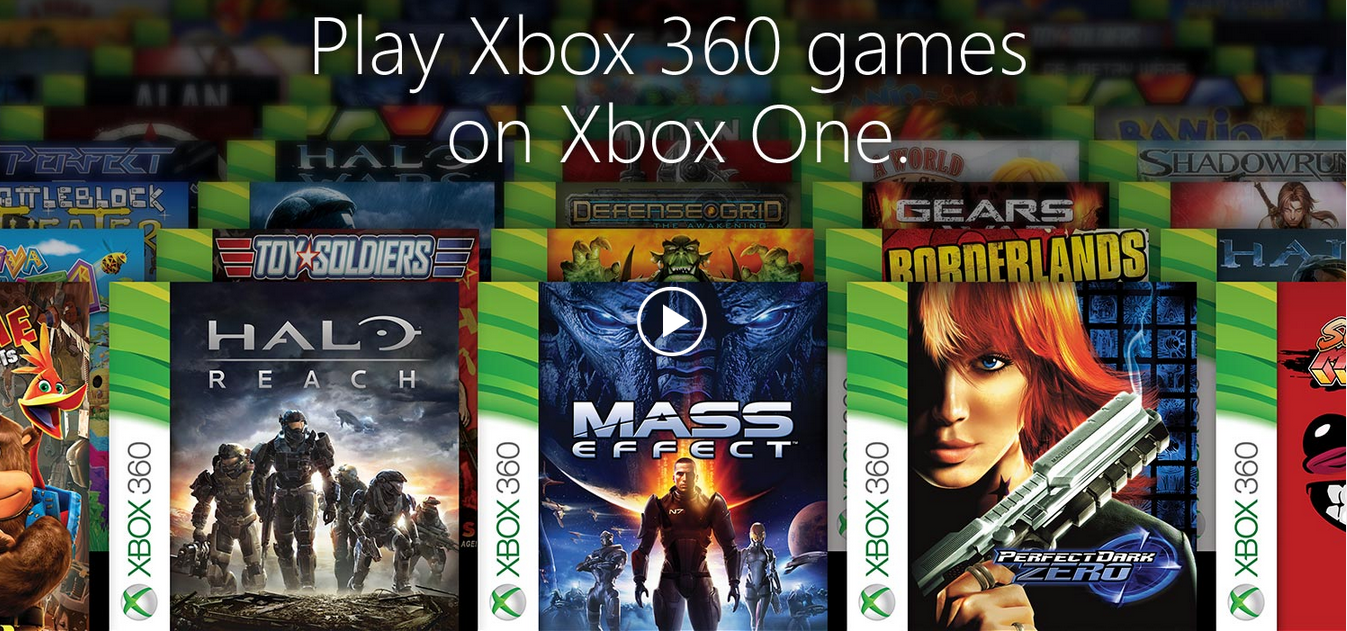 Alates 15 juunist on Xbox preview kasutajatel võimalik testida Xbox One Backward Compatibility Beta versiooni. Ülejäänud kasutajad saavad Xbox One Backward Compatibility funktsiooni kasutama hakata 2015 aasta sügisel.
Digitaalsed versioonid Xbox 360 mängudest mida omad, ilmuvad automaatselt Xbox One konsoolil sinu mängude nimekirjas "Ready to Install" kategooria all. Plaadil olevate mängude puhul tuleb sisestada Xbox 360 mänguplaat Xbox One konsooli ja seejärel mäng alla laadida Xbox One konsooli kõvakettale. Peale alla laadimist saad alustada mängimist (juhul kui mäng on nimekirjas ja mängu DVD on Xbox One konsoolis).
Nimekiri Xbox 360 mängudest mida saab Xbox One konsoolil mängida (seisuga 21 veebruar 2016):
A
A Kingdom for Keflings
A World of Keflings
Age of Booty
Alien Hominid HD
Assassin's Creed II
Asteroids & Deluxe
B
Banjo Kazooie: N n B
Banjo Tooie
Banjo Kazooie
BattleBlock Theater
Bejeweled 2
Bellator: MMA Onslaught
Beyond Good & Evil HD
Blood of the Werewolf
BloodRayne: Betrayal
Borderlands
Braid
C
Call of Juarez® Gunslinger
Castle Crashers
Castlestorm
Centipede & Millipede
Condemned
Counter-Strike: GO
Crazy Taxi
D
Deadliest Warrior: Legends
Defense Grid
DEUS EX: HUMAN REVOLUTION
DiRT 3
DiRT Showdown
Discs of Tron
Doom
Doom II
Doritos Crash Course
Dungeon Siege III
F
Fable II
Fable III
Fallout 3
Feeding Frenzy
Feeding Frenzy 2
G
Gears of War
Gears of War 2
Gears of War 3
Gears of War: Judgment
Golden Axe
H
Halo: Reach
Halo: Spartan Assault
Hardwood Backgammon
Hardwood Hearts
Hardwood Spades
Heavy Weapon
Hexic HD
Hydro Thunder
J
Jeremy McGrath's Offroad
Jetpac Refuelled
Joy Ride Turbo
Just Cause 2
L
LEGO Pirates of the Caribbean: The Video Game
LEGO Star Wars: TCS
Lode Runner
LUMINES LIVE!
M
Mass Effect
Metal Slug 3
Metal Slug XX
Might & Magic Clash of Heroes
Mirror's Edge
Missile Command
Monday Night Combat
Monkey Island: SE
Monkey Island 2: SE
Motocross Madness
Ms. Splosion Man
MS.PAC-MAN
Mutant Blobs Attack
N
N+
NBA JAM: On Fire Edition
NiGHTS into dream…
P
Pac-Man C.E
PAC-MAN CE DX+
Peggle
Perfect Dark
Perfect Dark Zero
Phantom Breaker: Battle Grounds
Pinball FX
Plants vs. Zombies
Portal: Still Alive
Prince of Persia
Putty Squad
R
Rayman 3 HD
R-Type Dimensions
S
Sacred 3
Sacred Citadel
Sam & Max Save the World
Sega Vintage Collection: Alex Kidd & Co.
Sega Vintage Collection: Monster World
Sega Vintage Collection: Streets of Rage
Shadow Complex
Skullgirls
Small Arms
Sonic CD
Sonic The Hedgehog
Sonic The Hedgehog 2
Sonic The Hedgehog 3
SOULCALIBUR
Space Giraffe
Spelunky
Splosion Man
Super Meat Boy
Supreme Commander 2
T
TC's RainbowSix Vegas
Ticket to Ride
TC's RainbowSix Vegas2
The Stick of Truth
The Witcher 2: Assassins of Kings
Torchlight
Toy Soldiers
Toy Soldiers Cold War
Tron: Evolution
U
Ugly Americans: Apocalypsegeddon
V
Viva Piñata
Viva Piñata: Trouble in Paradise
Vaata ka Xbox.com ametlikku lehekülge või lae alla PDF versiooni mängude nimekirjaga.